We are checking what fashion new arrivals have appeared in Polish collections for the autumn/winter season. We want to advise what to buy to create a fashionable autumn wardrobe.
Autumn/winter collections – what to expect?
In the coming season, the trend for so-called capsule collections is getting stronger. Eco-fashion is also on the agenda – a recurring trend includes eco-leather shoes and clothing. Stylists rightly assume that we will buy fewer clothes, but of better quality.
The trend for fashionable homewear will also continue this autumn. Aesthetic homewear, such as for example soft sweatpants, is becoming more and more popular – it is almost certain that this type of clothing will also appear in the latest collections.
When it comes to colours, this category will definitely be dominated by the typical autumn palette of burgundy, honey, mustard and warm shades of brown.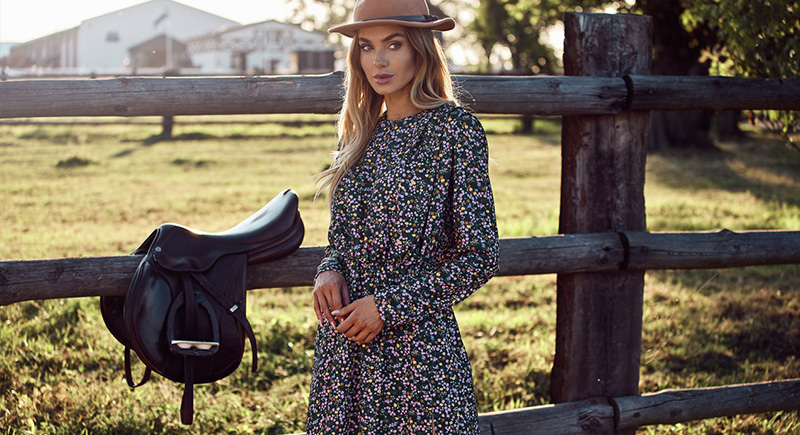 Overview of the first autumn/winter 2021/2022 collections
The online wholesaler Matterhorn has already released the first fashionable collections for the coming season. Which of the latest clothing models have the most styling potential?
Elegant, warm dresses for the autumn season
From typically casual to tailored, fashionable office dresses. The new collections feature not only well-known classics but also daring sports styles. Eco-leather, velour and materials with distinctive texture are definitely back in favour:
The Lemoniade day dress is distinguished by a surprisingly interesting combination of sporty style and elegant, puffed sleeves. The decorative values of the dress are emphasized by the use of velour in the shade of matt silver. A model definitely in unity with the latest fashion trends.
The Makadamia evening dress is proof that eco-leather can look exceptionally elegant. The dress has a classic form with a slightly flared skirt, sleeves and neckline with a welt. A bold yet feminine style in the trendy shade of claret.
Another fashionable dress made of eco-leather is a model from the Lanti collection. A beautiful dress, which emphasizes a woman's silhouette. The model in a warm shade of brown will be suitable as an aesthetic, bold evening dress.
Soft cardigans and openwork jumpers
A strong comeback of classics can be seen in this season, such as openwork jumpers with a delicate mesh structure. Warm, loose oversize cardigans are still very fashionable. These will be worn mainly in the early autumn, instead of transitional jackets and blazers.
Women's loose cardigan is a timeless piece of clothing, always worth having in your wardrobe. The Lemoniade model combines a loose cut with a fashionable, sporty look and a warm shade of light brown. Note the interesting pocket design and fashionable sleeves with rolled cuffs.
The acrylic women's jumper from the BE Knit collection is a surprising version of the traditional sports sweatshirt. The soft, coral-coloured jumper fits the figure beautifully. An ideal model to wear under a bomber jacket.
Warm women's turtleneck is a proposition for the first autumn chilly days. The two-coloured Lemoniade jumper offers a wide range of styling options. The garment can be tied with a sash or belt and worn with jeans, leggings or a fitted skirt.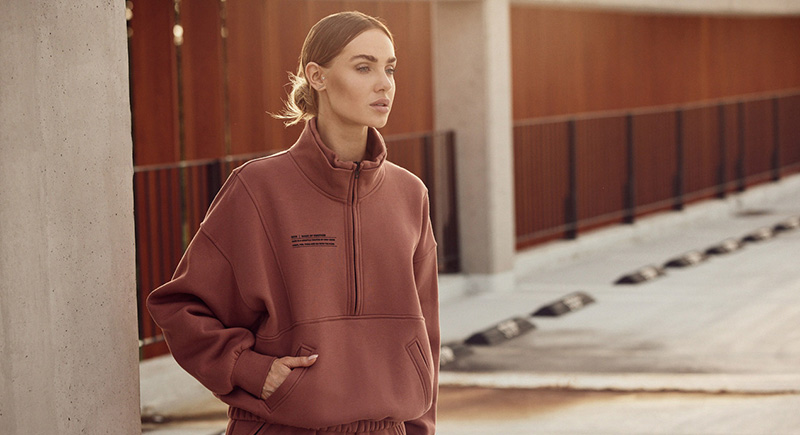 Fashionable homewear for the first cold days
In the coming season, we will see a slightly different version of the classic tracksuit bottoms, warm sweatshirts and outerwear. The known and tested homewear models – available in most autumn collections – have been supplemented with sporty details. Here are our recommendations:
Interesting version of the standard women's sports sweatshirt. The Lemoniade model is distinguished by a bold cut-out on the back and original cut – attention is drawn, among others, to the decorative welt and tight-fitting cuffs.
FIGL designers have chosen women's sweatshirts with a contrasting combination of black and pastel patterns. The garment with a hood and piping at bust level looks original and modern.
Lemoniade women's poncho is definitely more original than classic sports blouses. The key advantage of the model is its loose, bold cut and soft fabric made of 95% cotton.
Autumn "must haves": Coats, jackets and outer garments
In the autumn, patterned cardigans and short bomber jackets will also be in fashion apart from the classic, tailored coats. Which models are worth adding to your autumn wardrobe?
A beautiful, classic autumn and winter coat in pepit pattern is timeless. The model by FIGL is made of a mixture of nylon, polyester and viscose. The garment has a soft, pleasant to the touch lining.
The Vitesi women's coat stands out with its bold, contrasting pattern. A high collar and a striking slit add charm to this classic cut. Coat model also available in plus size.
Maroon double-breasted coat by Nife looks extremely impressive. Long, tailored coat was made of acrylic with a blend of wool. Timeless cut for everyday and formal outfit.
Your autumn wardrobe cannot be complete without fashionable accessories. The latest offer of accessories for the coming season can be found, among others, in the following categories: women's shoes, scarves and neckerchiefs, and women's bags.